Edit on GitHub
The commands and parameters that can be used in RoboPlus Task depend on the controller. Therefore, a controller must be selected before creating a program.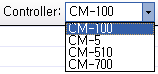 If you change the controller while you are writing a program for another controller, errors may be raised during the "rule check" process.

To use a program designed for another controller, the incompatible commands and parameters must be changed accordingly.
Rule check is the process to verify that the task code has been written appropriately according to the rules. RoboPlus Task has a function that checks for grammatical errors and prints the causes and locations of errors. An example of a grammatical error and its location is shown below.
=== Sentence Check(ollo_bug_product_en) ===
Line:13 Please select a device or number.
=== Tottal Error: 1 ===

Double-click on the error message to move to the location of the error.
The following is a list of grammatical errors
The following table provides a list of errors you may see while writing codes and printing the output on the screen with RoboPlus Task.
Error Code
Description
Output Example
8100
Trying to communicate with an unconnected Dynamixel ID.
If it is connected, please check the cable again.
{[ERROR:8100:0005:03]}
8100 : Error Code
0005 : The Dynamixel ID
03 : Confidential Information
0009
Too many consecutive function calls. (More than 6 times)
{[ERROR:0009:0033:06]}
0009 : Error Code
0033 :Confidential Information
06 : Confidential Information
8001
Attempting to read an address of the controller designated as "write only".
{[ERROR:8001:000C:02]}
8001 : Error Code
000C : Confidential Information
02 : Confidential Information
8002
Attempting to write at an address of the controller designated as "read only".
{[ERROR:8002:0009:02]}
8002 : Error Code
0009 : Confidential Information
02 : Confidential Information
None
Motion page to execute does not exist.
[Invalid Page Read:00FE]
00FE : Motion page number (hexadecimal)