Edit on GitHub
RC-200 supports IR communication with controller.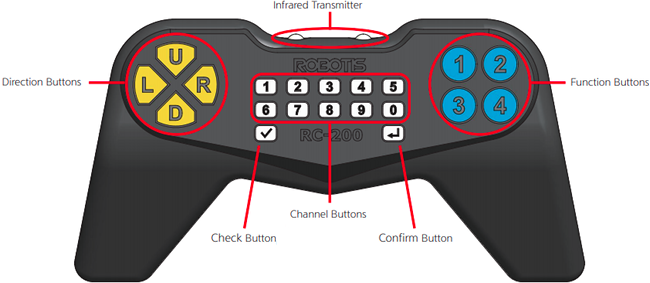 RC-200 Buttons
Start the CM-50 controller with Manage Mode.
Press and hold down V and ↲ button for 5 seconds until 2, 4, 7, 8, 9 buttons on RC-200 light up.
Select the channel to use(1 ~ 25), then enter the channel number from RC-200.
Press the ↲ button to save the channel setting.
Three beeps will sound consecutively if RC-200 is succesfully connected to the controller.
To set the channel as 7: 7 + ↲
To set the channel as 11: 1 + 1 + ↲

To set the channel as 25: 2 + 5+ ↲

NOTE: Channels can be set from 1 to 25.
Turn off the controller and press the red button 5 times to control the robot.
After setting the channel, press ↲ button to lock the channel button.
(Auto-locks in 3 seconds after the channel is set .)
Press down both the to unlock the channel buttons LED on 2, 7, 8, 9, 4 buttons will blink when unlocked
Press V button to check the current channel using the blinking LED. .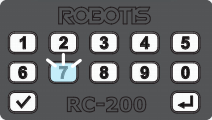 Channel 7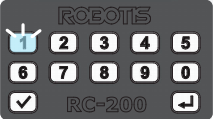 Channel 11 ( 1 button blinks 2 times consecutively)
Press the channel button or ↲ button. If LED of ↲ button blinks 5 times consecutively, you are advised to replace the batteries.


Precaution: Please remove batteries from RC-200 when it is not in use. Be aware that removing batteries will reset the communication channel to 1.
See Straightness Tuning.