Edit on GitHub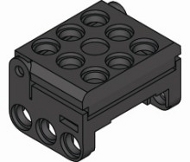 Touch Sensor(TS-10)
This is a switch like the sensor used with OLLO to sense touch by other objects.
Can be used as a bumper on cars to detect impact.
Compatibility Guide Controller Compatibility
Weight : 4g
Dimensions : 24mm x 18mm x 15mm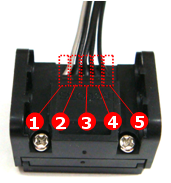 Not used
GND
ADC : Outputs status of switch, i.e. Pressed or Not Pressed
VCC
Not used
CAUTION : Cables can may be damaged when not properly connected (i.e. wrong orientation), or use of excessive force during connection.
RoboPlus Task : Please refer to Touch Sensor section in the Roboplus Task.