Edit on GitHub
Combined with U2D2, it can supply various kinds of external power supply to supply stable power to DYNAMIXEL.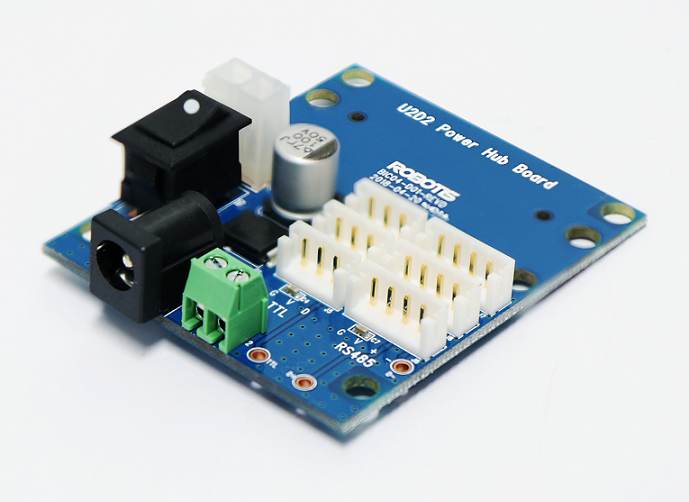 | Item | Details |
| --- | --- |
| Operaing Voltage | 3.5V ~ 24.0V |
| Maximum Current | 10.0A |


DANGER
(May cause serious injury or death)
Never place items containing water, flammables, and solvents near product.
Never place fingers, arms, toes, and other body parts near product during operation.
Cut power off if product emits strange odors or smoke.
Keep product out of reach of children.
Check the power's polarity before wiring.


CAUTION
(May cause injury or damage to product)
Comply with the operating environment such as voltage and temperature.
Do not insert sharp blades nor pins during product operation.


ATTENTION
(May cause injury or damage to product)
Do not disassemble or modify product.
Do not drop or apply strong shock to product.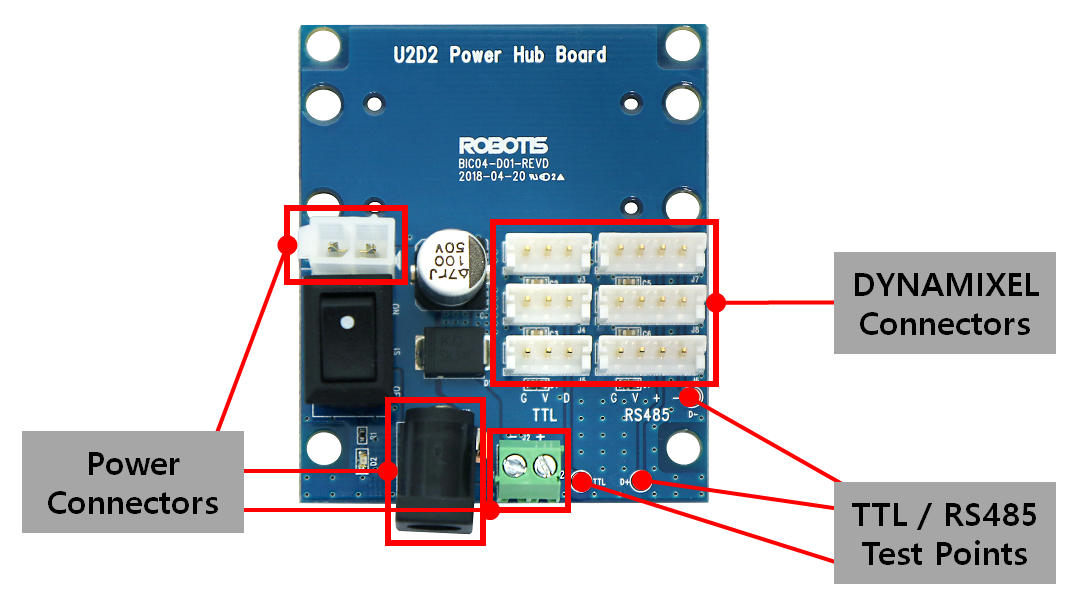 DYNAMIXEL Connectors: 3 and 4-pins JST connectors are installed for communication. See Connector Information for more details.

TTL/RS485 Test Points: TTL data line, RS485 D +, D-line signals can be easily identified via the test points

Power Connectors: U2D2 PHB provides three different types of power connectors to supply a diverse voltage and current to DYNAMIXEL.
CAUTION:
Be sure to check the polarity of the terminal block connector when using an external power supply, to enhance the user safety.
Some pins stick out on the bottom of the board, which are prone to touch the floor. To prevent from touching a floor, assemble the board with the supplied supporters following How to Assemble instruction.
Assemble four(4) plastic supporters at each corner of the U2D2 Power Hub Board as shown below.

Use plastic rivets to mount U2D2 on the U2D2 Power Hub Board.

Connect U2D2 and U2D2 Power Hub Board with 3P or 4P cables (Both 3P and 4P cables can be connected at the same time).

Connect additional cables that will connect U2D2 and DYNAMIXEL (Depending on DYNAMIXEL model, converting cables may be required).

Connect the other side of the cable to DYNAMIXEL (Depending on DYNAMIXEL model, converting cables may be required).

Connect power to U2D2 Power Hub Board.

DANGER : Do NOT use multiple power inputs at the same time. Select ONLY one of the power source to connect.

WARNING : Check the Recommended Voltage for DYNAMIXEL before supplying the power.

Turn the power switch on U2D2 Power Hub Board to supply power to DYNAMIXEL