Edit on GitHub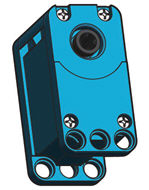 Low Speed Geared Motor
This motor is used in ROBOTIS DREAM LEVEL 1
Compatibility Guide Controller Compatibility
CAUTION : Low Speed Geared Motor is DISCONTINUED.
Weight : 15g
Dimensions : 18mm x 36mm x 24mm
Gear Ratio : 70:1
Speed : 150RPM @ 3.7V
Output on both Axles
Safety Clutch installed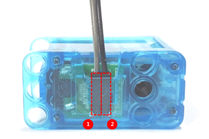 MOT-
MOT+
CAUTION : Cables can be damaged when connected imporperly(i.e. wrong orientation), or when use excessive force during connection.
RoboPlus Task : Please refer to Geared Motor section in the Roboplus Task.