Edit on GitHub
NOTE:
The test is done on ROS Kinetic Kame installed in Ubuntu 16.04.
The test is done on ROS Melodic Moreniainstalled in Ubuntu 18.04.
Make sure ROS dependencies are installed before performing these instructions - Install ROS Packages
Load OpenManipulator-PRO on Gazebo simulator and click on Play ▶ button.
  

$ 

roslaunch open_manipulator_p_gazebo open_manipulator_p_gazebo.launch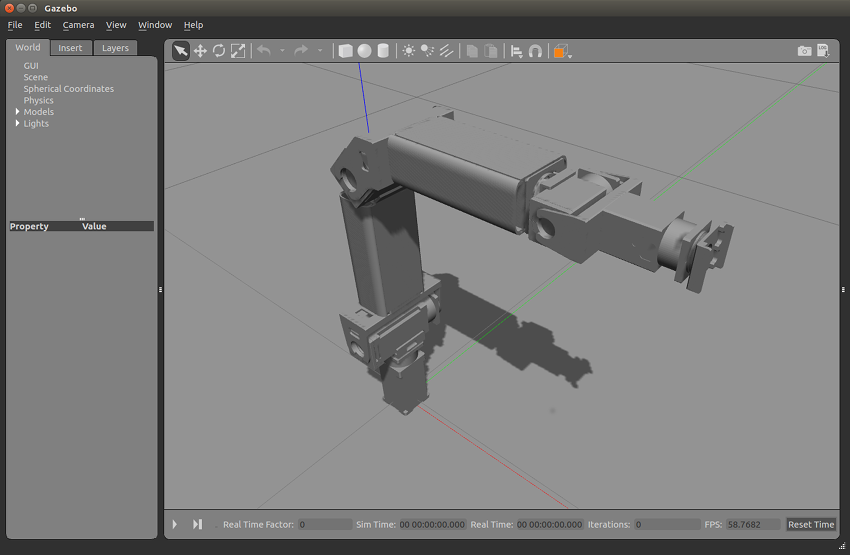 Enter rostopic list to list up the activated topics.
  /clock
  /gazebo/link_states
  /gazebo/model_states
  /gazebo/parameter_descriptions
  /gazebo/parameter_updates
  /gazebo/set_link_state
  /gazebo/set_model_state
  /gazebo_gui/parameter_descriptions
  /gazebo_gui/parameter_updates
  /open_manipulator_p/joint1_position/command
  /open_manipulator_p/joint2_position/command
  /open_manipulator_p/joint3_position/command
  /open_manipulator_p/joint4_position/command
  /open_manipulator_p/joint5_position/command
  /open_manipulator_p/joint6_position/command
  /open_manipulator_p/joint_states
  /rosout
  /rosout_agg

Launch the open_manipulator_p_controller for gazebo simulation.
  

$ 

roslaunch open_manipulator_p_controller open_manipulator_p_controller.launch use_platform:

=

false



NOTE:
To control the OpenManipulator-PRO in the Gazebo environment using the OpenManipulator-PRO Controller, the controller must set the use_platform parameter to false because it needs to send messages to gazebo instead of Platform.
If you want to manipulate the OpenManipulator-PRO using Moveit within the Gazebo simulator, you should also convert the use_moveit to true in open_manipulator_p_controller launch file.
If the OpenManipulator-PRO controller for gazebo simulation Launched successfully, the terminal will represent below messages.
SUMMARY
========

PARAMETERS
 * /open_manipulator_p/control_period: 0.01
 * /open_manipulator_p/moveit_sample_duration: 0.05
 * /open_manipulator_p/planning_group_name: arm
 * /open_manipulator_p/using_moveit: False
 * /open_manipulator_p/using_platform: False
 * /rosdistro: kinetic
 * /rosversion: 1.12.14

NODES
  /
    open_manipulator_p (open_manipulator_p_controller/open_manipulator_p_controller)

ROS_MASTER_URI=http://192.168.3.149:11311

process[open_manipulator_p-1]: started with pid [4388]
[INFO] Ready to simulate /open_manipulator_p on Gazebo

NOTE : In OpenMAIPULATOR-PRO controller for gazebo simulation, Joint and Gripper DYNAMIXEL are not enable, following messages will not be displayed :
Joint Dynamixel ID : 1, Model Name : PRO-PLUS-PH54-200-S500-R
Joint Dynamixel ID : 2, Model Name : PRO-PLUS-PH54-200-S500-R
Joint Dynamixel ID : 3, Model Name : PRO-PLUS-PH54-100-S500-R
Joint Dynamixel ID : 4, Model Name : PRO-PLUS-PH54-100-S500-R
Joint Dynamixel ID : 5, Model Name : PRO-PLUS-PH42-020-S300-R
Joint Dynamixel ID : 6, Model Name : PRO-PLUS-PH42-020-S300-R
Open an open_manipulator_p_control_gui to control OpenMANIPULATOR-P